Welcome
Drinagh operates four pharmacies located in Skibbereen, Dunmanway, Bantry and Schull.
We offer an efficient and professional dispensing service with all community drug schemes catered for. A range of additional health services, such as blood pressure monitoring, flu vaccination, medication usage reviews, blood sugar and cholesterol measurements are also available.
We carry a wide range of vitamins and health supplements in both stores, as well as a comprehensive selection of skin care, cosmetic and beauty products.
Bantry Pharmacy, currently trading at O'Sullivan's Allcare, provides prescriptions themed with expert healthcare advice to you and your family, in addition to a range of pharmacy services, such as Blood Glucose Screening, Blood Pressure Check, Emergency Contraception, Smoking Cessation, Asthma Care, Winter Flu Vaccination, Weight Management / BMI, Prescription Texting.
Dunmanway Pharmacy is a large, spacious pharmacy, opened in 2012 with prescriptions dispensed on all drug schemes, including Medical Card, Drug Payment Scheme & Long Term Illness. Dunmanway Pharmacy stocks a large range of medical, health, first aid and beauty products.
Non-prescription medicines may also be purchased online from the Drinagh Pharmacy website.
Drinagh Pharmacy, Schull, is dedicated to serving the needs of the local community. We provide a huge range of services & products across the key areas of Health, Medical, Beauty, Baby & Gift.
Established in 1997 as a community pharmacy serving the needs of the local population, Skibbereen Pharmacy has grown to be one of the largest pharmacies in the Cork region. Under the same ownership and management, and now with a full time staff of twelve, we offer an extensive range of add-on services in addition to the traditional dispensing and advice role.
Pharmacy Services
Dispensing
We dispense medication an all of the following community drug schemes:
Private
GMS (Medical Card)
DPS (Drugs Payment Scheme)
LTI (Long Term Illness)
HAA (Health Amendment Act)
European Health Insurance Card (E111)
Community Hardship Scheme
High Tech Scheme (Consultant prescribed medicines)
Whether you are a regular customer, or it is your first visit to our pharmacies, we provide a comprehensive patient counselling service to ensure that you have all relevant information relating to your prescription medication and associated medical conditions.
We have a private consultation area in each pharmacy where you can speak in confidence to the pharmacist and discuss any queries or concerns you have in relation to your prescription or general health.
Medication Usage Reviews
We also provide a medication usage review to patients. This service is available free of charge, and is particularly suitable when a person is on a lot of medications and may be unclear about what each one is for, and when to take them. Contact any of our pharmacists to arrange an appointment.
Monitored Dosage Dispensing
This is a medicine packing system where your regular medicines are packed in a monthly or weekly tray to ensure you receive the right drug at the right time of day. Ask any of our pharmacists for details on how this system can help you safely manage your medication.
Compression Hosiery
A measuring service for compression hosiery is available in store. The measurement process is very important so that you get the correct fit when using compression stockings, for conditions ranging from tired and aching legs, varicose veins, chronic venous disease and lymphoedema (where fluid collects in the lower legs).
There are a wide range of compression, styles and colours to choose from for men and women, including maternity support and compression tights. This fitting service is available free of charge both to customers buying compression hosiery over the counter and to those that were prescribed it by their GP.
Retail
We carry a full range of over-the-counter medicines, and our staff have all received training in correct use of medicines. The key element of this training is to know when to bring a particular request to the attention of the pharmacist, so that you receive the appropriate medicines and advice.
An extensive range of vitamins and health supplements are stocked, as well as first aid supplies, supports and foot care products.
Beauty
We are fortunate to have qualified beauty therapists in charge of our Beauty departments in both of our stores. Annette and Eimear are available to guide you through our range, and give expert advice on which products might be most suitable for your needs.
A great range of products is available in each pharmacy, and we always have special offers and promotions running.
Why not join our Loyalty Club or sign up for out text messaging service so that you will always be informed of our promotion offers.
Digital Photo Centre
With new Kodak photo kiosks recently installed in both of our pharmacies, we can now offer digital photo printing from your digital camera, smartphone or memory cards. You can now even print photos directly from Facebook in our Skibbereen Pharmacy.
The price list below shows our prices for standard photos as well as collages, invitations and greeting cards.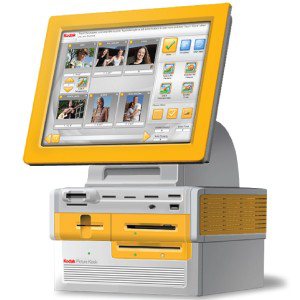 4" x 6"
| | |
| --- | --- |
| 1-25 prints | 30c each |
| 26-50 prints | 25c each |
| 51 + prints | 20c each |
5" x 7"
| | |
| --- | --- |
| 1-10 prints | 75c each |
| 11 + prints | 60c each |
6" x 8"
| | |
| --- | --- |
| 1-10 prints | 75c each |
| 11 + prints | 60c each |
| | |
| --- | --- |
| Index print | 30c each |
| 5" x 7" Collage | €2 each |
| 6" x 8" Collage | €2 each |
| 5" x 7" Invitations | €1 each |
| 6" x 8" Greeting Card | €1 each |
Drinagh Pharmacy Loyalty Club
Why not sign up for our Drinagh Pharmacy Loyalty Card and gain points for each purchase you make with us. (Prescription charges and medicines excluded.) These points can then be spent in either our Skibbereen or Dunmanway Pharmacies.
It won't be long before your points add up to a free gift for you.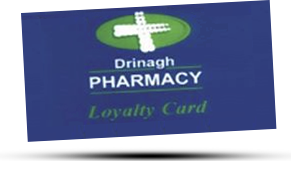 ---
Eamon Hayes — Dunmanway Pharmacist
Eamon qualified from University College Cork with a BPharm in 2009, and was delighted to join Drinagh Pharmacy in Skibbereen in 2011. He acted as a support pharmacist in Skibbereen for 18 months before moving to the new pharmacy in Dunmanway. Eamon is supervising pharmacist and manager, and ensures the pharmacy offers a friendly, professional community service to all its customers.
Michael McCarthy — Schull & Skibbereen Pharmacist
Michael qualified from Trinity College Dublin with a B.Sc.(Pharm) in 1993 and joined Drinagh in 1997 to develop the new pharmacy at Skibbereen, which opened in September of that year. Working with pharmacists Sarah McCarthy and Catherine McCarthy, Michael is responsible for ensuring the pharmacy section operates to the highest business and professional standards.
Pauric Kilcullen — Bantry Pharmacist
Pauric qualified in 2008 with an MPharm from the Robert Gordon University, Aberdeen. He joined O'Sullivans Allcare Pharmacy as supervising pharmacist in 2013. Pauric works alongside pharmacists, Ger O'Sullivan and John O'Sullivan to provide a caring, friendly and professional service for the Bantry community and beyond.