October 2021 Dairy Newsletter
Milk Price; Fixed Milk Price Scheme 8; Autumn Agri Promotion; Thermoduric Bacteria; Lactose / Late Lactation Milk; Drinagh Minerals Brochure; CellCheck Virtual Week; Drinagh On-line Login & MilkedIn APP
Milk Price
The base milk price for the month of September has increased by 1.0 cent per litre to 37.36 cents per litre (169.84 cents per gallon) at 3.60% butterfat and 3.30% protein, including the Summer Somatic Cell Count (SCC) bonus of 0.5 cpl and VAT at 5.6%.
The average price paid for the month is 44.44 cents per litre. This is based on the average butterfat of 4.50% and protein of 3.69%, including Summer SCC bonus and VAT at 5.6%.
Total milk supplied to the end of September 2021 is up 3.57% compared to the same time last year. Milk supply from January to September is just over 187 million litres.
Fixed Milk Price Scheme 8
Drinagh is offering milk suppliers a new 3-year fixed milk price scheme beginning on January 1st, 2022 and ending on December 31st, 2024.
The price for the 3-year period at 3.6% butterfat and 3.3% protein is 34.11 cents per litre including Summer SCC and Vat at 5.6%. This scheme is available to all milk suppliers at a minimum of 10% of 2021 supply volumes. However, in the event of under subscription, an increased volume of between 10% and 20% may become available for individual suppliers.
Milk supplied under the fixed milk price scheme will qualify for a bonus (if any) paid from the Society's profits. It does not qualify for any bonus paid by Carbery. Also, it does not qualify for milk price support (if any) paid by the Society and/or Carbery.
An information letter and an application form to join the scheme is included in this month's accounts. The option to take up this scheme is voluntary.
Closing date for the 8th fixed milk price scheme is close of business on Tuesday, October 26th, 2021.
Autumn Agri Promotion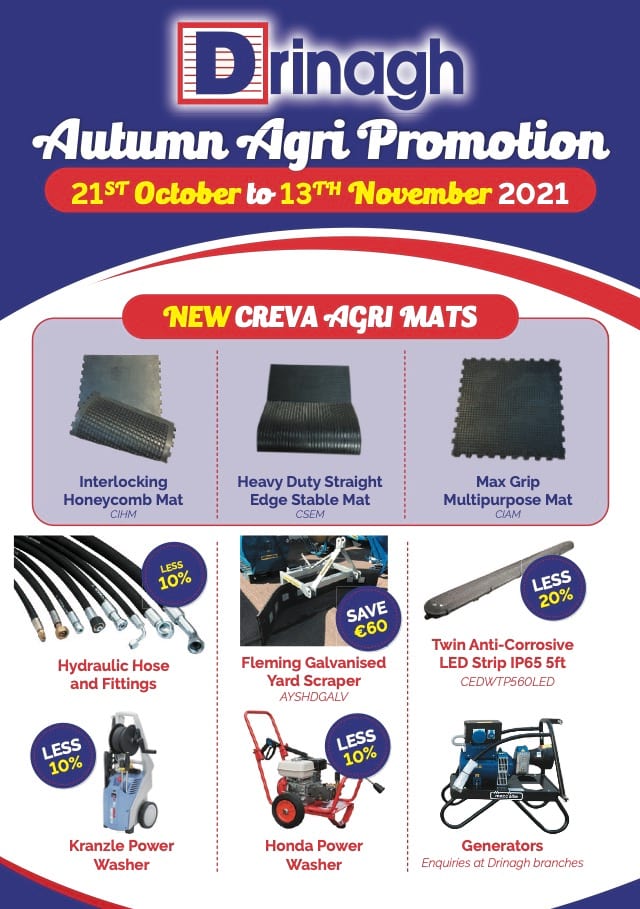 The Drinagh Autumn Agri Promotion is starting this Thursday, October 21st and finishing on November 13th 2021.
See promotion brochure included in this month's accounts for more information.
Products on offer include: Power washers, cubicle mats, flexothane protective clothing, slurry additive and much more............
Thermoduric Bacteria
Thermoduric Bacteria: Thermodurics are bacteria that can survive pasteurisation and grow through cheesemaking and subsequently through the ingredient manufacturing process, ultimately ending up in final product.
A thermoduric level of 500 cfu/ml or less is necessary in milk to ensure that it is fully suitable for processing.
The Society encourages any supplier that frequently has a thermoduric count over 500 cfu/ml to contact Darren/ Tim to try and solve their thermoduric issue before the end of the year.
Lactose / Late Lactation Milk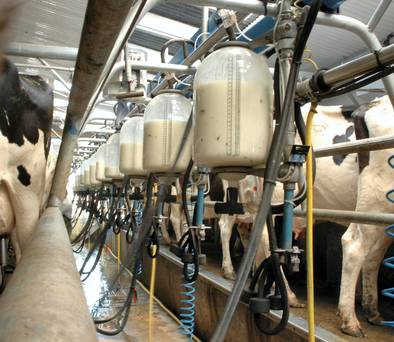 Lactose is a quality indicator of the process ability of late lactation milk (the lower the lactose the poorer the processing quality).
Milk Lactose content is largely an indicator of cow milk yield, as yields decrease so does milk lactose content. As well as late lactation milk being lower in lactose, this problem is often exacerbated by low cow nutrition at the end season. Milk that is high in SCC will also have lower lactose levels.
Guidelines to maintain Lactose >4.2%
Dry off any low yielding cows.
Dry off all high SCC cows - the long dry period will also help cows recovery for next season.
Maintain a good quality diet as energy intake and body condition are key.
Lactose penalties below:
| On average monthly result | PENALTY |
| --- | --- |
| >4.2 % | No Penalty |
| 4.00 — 4.20 % | 3 cent/litre |
| <4.0 % | 6 cent/litre |
Drinagh Minerals Brochure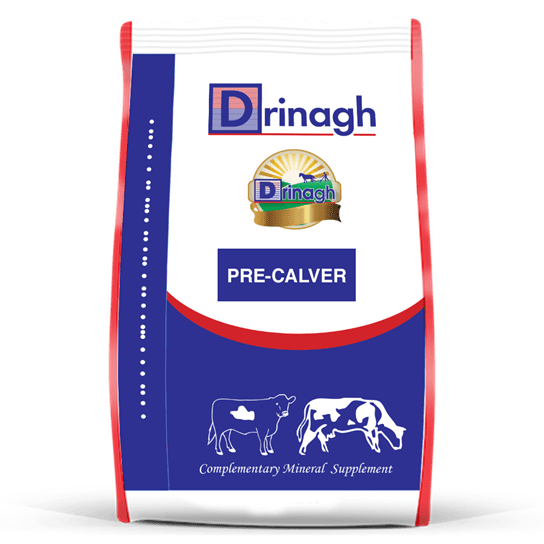 The Drinagh Pre-Calver Mineral brochure 2020/2021 is included in this month's accounts.
Contact your local branch or sales representative for more information.
CellCheck Virtual Week
CellCheck Virtual Week is a week-long programme of information and resources starting Monday October 18th to help milk producers as they begin to consider their plan for drying-off this winter. These resources will provide timely messages as we move towards the changes in antibiotic usage next year. Each day there will be a new focus with videos and other resources posted relating to the key message of the day.
Follow the daily updates at this link.
Drinagh On-line Login & MilkedIn APP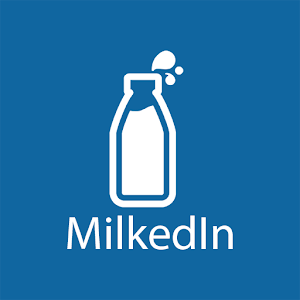 The Drinagh Online login where customers can access both trading and milk information such as monthly statements is proving very popular, especially when preparing annual accounts.
The MilkedIn App is also very popular. We particularly encourage any supplier regularly sending samples to Carbery for SCC or TBC testing to start using the App as an easy means of accessing their results.
The password for both the online login and the MilkedIn App are the same, so if you are using one, the same password will automatically work for the other as well.
If you wish to start using either the online login or the MilkedIn App, please contact Darren or Tim.
REMINDER
Drinagh Autumn Agri Promotion starts this week
Fixed Milk Price Scheme 8 Application form included in this month's accounts