July 2021 Dairy Newsletter
Farm Plastics Recycling; Farm Safety Week Promotion; Bord Bia Update; NDC & Kerrgold Milk Quality Awards; E Statements; Johnes Payment; Milk Recording
Milk Price
The base milk price for the month of June is unchanged at 36.29 cents per litre (164.84 cents per gallon) at 3.60% butterfat and 3.30% protein, including the Summer Somatic Cell Count (SCC) bonus of 0.5 cpl and VAT at 5.6%.
The average price paid for the month is 38.75 cents per litre. This is based on the average butterfat of 3.95% and protein of 3.42%, including Summer SCC bonus and VAT at 5.6%.
Milk supply for the first 6 months of 2021 is up by 4.13% to 119 million litres. Strong milk supplies in March and April account for a large portion of the increase.
Farm Plastics Recycling Bring Centres

West Cork dates:
Location
Date

Skibbereen


Cork Marts Skibbereen
Tuesday/ Wednesday 10/11th August

Bantry


Bantry Skip Hire, Dunbittern East
Friday/Saturday 13/14th August

Castletownbere


Donegans Plant Hire, Derrymihin West
Tuesday August 17th

Schull


Derryconnell Landfill
Wednesday 18th

Dunmanway


Murray Bros. Ardcahan Quarry
Monday/Tuesday 21/22nd August
Eligible items & prices:
| Category | Price per 1/2 tonne |
| --- | --- |
| Silage plastic (please ask your plastic supplier for the IFFPG label code number | €25 |
| Bulk fertiliser/meal bags (liners removed) | €10 |
| Small fertiliser/meal bags (including bulk liners) | €10 |
| Drums (must be triple rinsed) | €10 |
| Netting and twine | €5 (€15 without label code) |
Farm Safety Week Promotion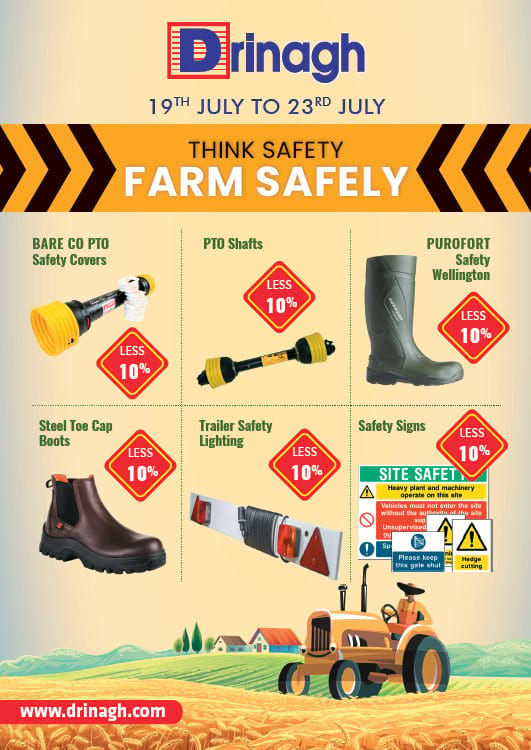 Bord Bia Update
Bord Bia continue to perform both on-farm and remote audits. Suppliers can select the type of audit that suits them best. Both on-farm and remote audits carry the full 18 months certification period. Initially remote audits achieved a 12-month recertification period however following a Bord Bia review all remote audits that been completed since the remote auditing started have been updated to a longer 18-month cert.
Suppliers that provide poor quality close out or have repeat non-compliances from previous audits as always may receive a shorter 8-month certification period.
If you require any help or advice in preparing for an upcoming remote audit, please contact Ciara Sheehan on 087 7384736.
NDC & Kerrgold Milk Quality Awards 2020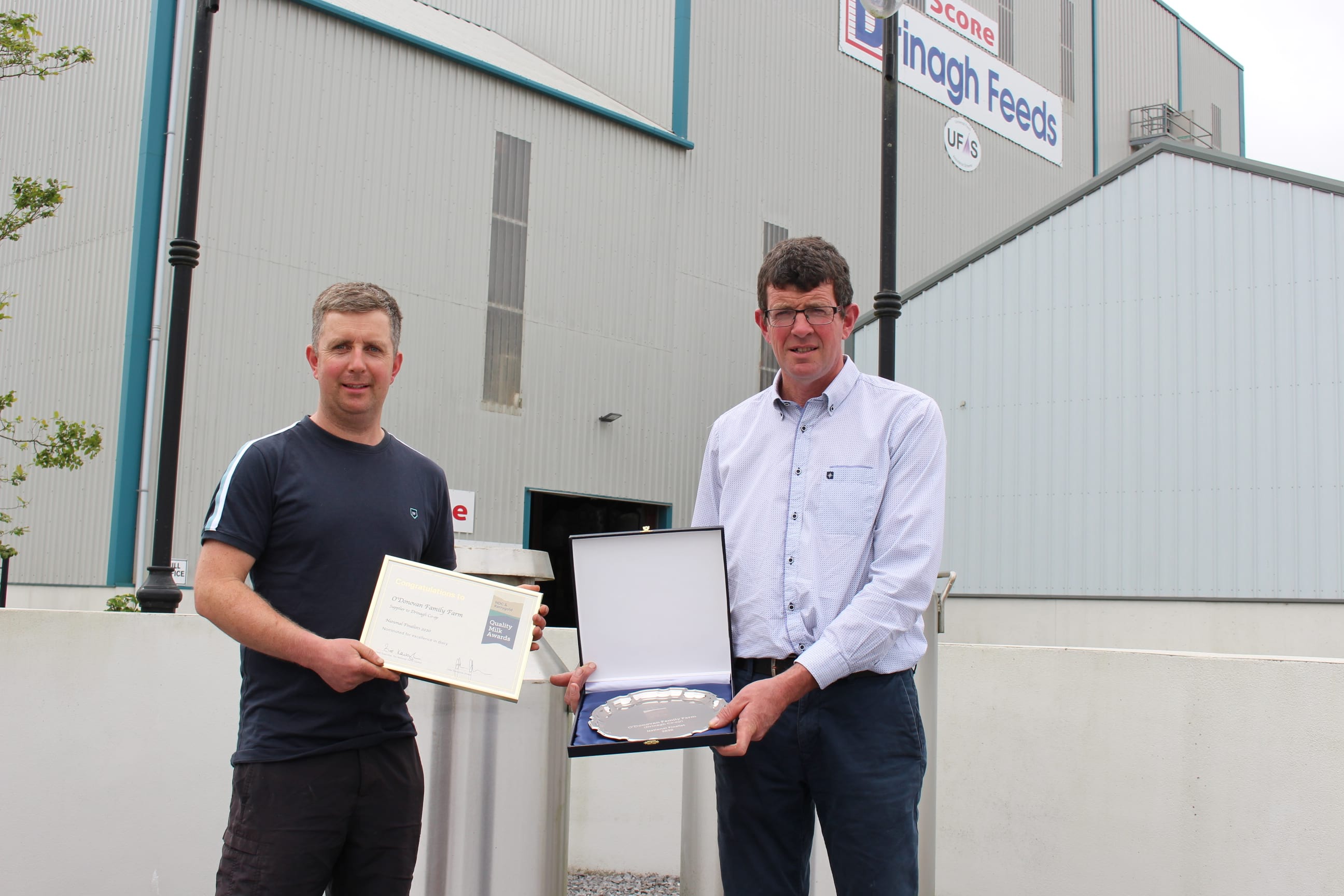 E Statements
Drinagh now have the facility to email your monthly accounts. All the information included in your monthly statement can be emailed directly to you.
Benefits:
Milk statements received in advance of paper copies
Goods statements received around the 10th of the month
All dockets emailed, allowing dockets to be easily stored and accessed
Reduce paper use, packing and postage
If you wish to avail of this service, please return the pink form included in this month's statement.
Johnes Payment 2020
Johnes payments for testing completed last year as part of Johnes Control Programme have been credited to each participant's account in June 2021.
It's Never Too Late to Milk Record
As dairy farmers, you have an opportunity to invest in the long-term profitability of your herds, through milk recording.

There are multiple benefits to milk recording, many of which farmers may not be aware of:
Regular milk recording allows the herd owner to keep track of the somatic cell count (SCC) of each cow. After all year-round teat disinfection, milk recording is the next most important tool in dealing with high SCC and mastitis. Milk recording identifies and facilitates the management of problem cows.
The most obvious benefit of milk recording is that it allows milk suppliers to track their best and worst producers. This facilitates better management decisions such as cows which are underperforming and may be suitable to cull or, which cows are high performers and are therefore more suitable for breeding replacements.
Milk recording adds significant value to any surplus breeding stock being sold off the farm and records from milk recording may increase the compensation available for animals that must be culled because of a positive TB reaction.
Its importance will become even more critical with the regulations around dry cow therapy changing in 2022. Milk recording will be required to show which cows have had low SCC levels during lactation and may not need dry cow tubes, but it will be equally as important to show which cows had a mastitis infection and need dry cow therapy to treat the infection.
There are two types of milk recording services available, the Recorder service or the Electronic DIY service. Contact your Munster Bovine on 022 43228 to find out more.
Research has shown that milk recording can lead to €120 increase in profit per cow, which is a 10-fold return on an average cost of €12 euro per cow annually.
If you are thinking of leaving it until next year......don't!!! It is never too late in the year to start milk recording.
Reminders
Farm Safety Week July 19th – 23rd
Farm Plastic Recycling Bring Centres in West Cork in August