January 2021 Dairy Newsletter
Milk Price; Milk Supply; Carbery Bonus; Covid-19 Reminder; Spring Dairy Webinar; Spring Agri Promotion; Milk Supply Agreement & Herd Health Cert; E Statements; Chlorine-Free Brochure
Milk Price
The milk price for the month of December is unchanged at 33.47 cents per litre (152.15 cents per gallon) at 3.60% butterfat and 3.30% protein, including the Winter Somatic Cell Count (SCC) bonus of 0.88 cpl and VAT at 5.4%. This includes 1.0 cent per litre milk price support from the stability fund.
The average price paid for the month is 39.60 cents per litre. This is based on the average butterfat of 4.64% and protein of 3.57%, including SCC bonus and VAT.
Milk Supply
Milk supply for the year 2020 finished at 213,656,979 litres, this represents an increase of 4.29% based on 2019 milk supplies.
Carbery Bonus
The board have approved payment of a Carbery Bonus of 0.5 cent per litre plus VAT on 2020 milk supplies.
It is anticipated that the bonus will be paid in April with the March milk statement.
Covid-19 Reminder
As we enter the busy Spring period both on farm and at Co-op level, we ask all suppliers to help support the running of day-to-day operations including milk collections, farm deliveries and our branch network.
By maintaining a safe social distance with all Drinagh personal including those that visit your farm will help to keep everyone healthy and safe at this critical time of the year.
If you feel unwell at any stage or are a close contact of positive case of Covid-19, please avoid all contact with Drinagh drivers and staff in Drinagh branches.
If you are unable to visit our stores, there is always the option of ringing your local Drinagh and placing an order for delivery.
Spring Dairy Webinar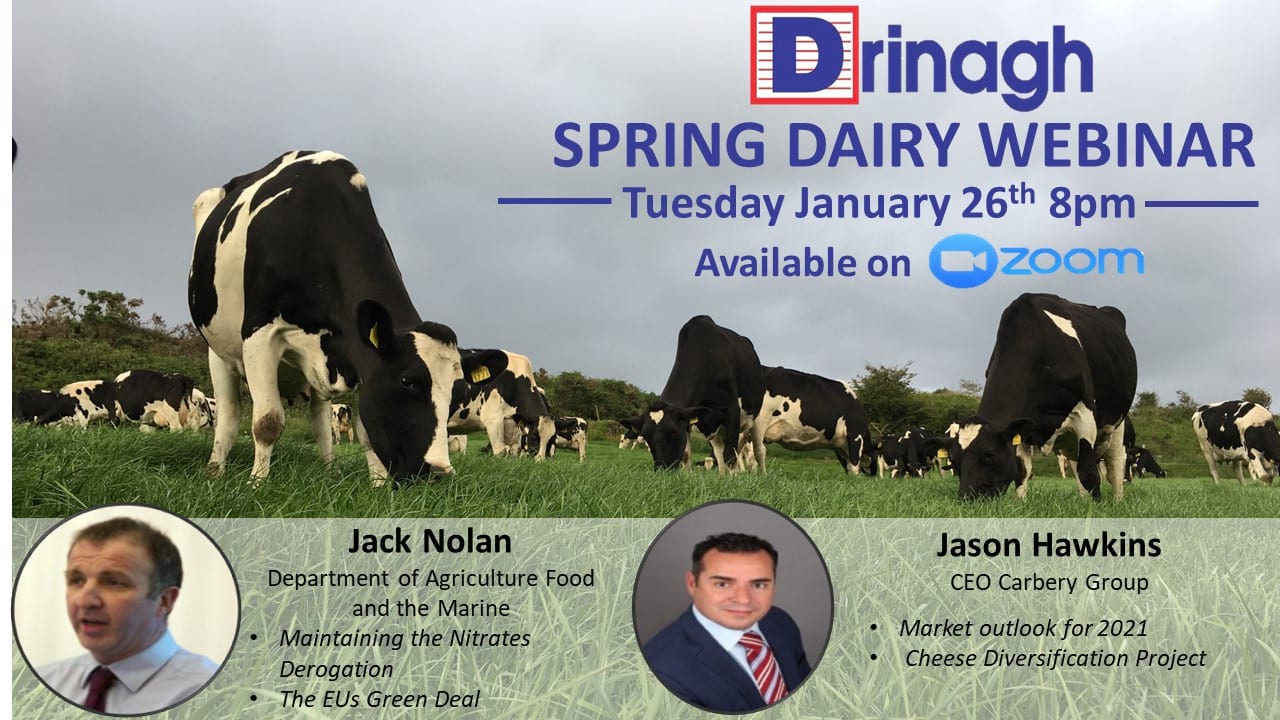 The Spring Dairy Seminar will be held as a Spring Dairy Webinar for 2021.
The webinar is on Tuesday 26th of January from 8.00pm to 9.30pm.
Speakers on the night include:
Jack Nolan, Department of Agriculture Food and the Marine
Topics:
Maintaining the Nitrates Derogation
The EU's Green Deal
Jason Hawkins
CEO Carbery Group
Topics:
Market outlook for 2021
Cheese Diversification Project
Zoom can be downloaded to your desktop, tablet, laptop or smartphone. Please click the link below to join the webinar:
https://us02web.zoom.us/j/89297363905
Or iPhone one-tap :
Ireland: +35361639031,,89297363905# or +35312408941,,89297363905#
Or Telephone:
Dial: +353 6 163 9031 or +353 1 240 8941 or +353 1 536 9320 or +353 1 653 3895 or +353 1 653 3897 or +353 1 653 3898
Webinar ID: 892 9736 3905

Spring Agri Promotion
The Drinagh Spring Agri promotion begins Monday January 18th, 2021 and runs to March 27th, 2021.
This year's promotion carries a huge savings across
Milk replacer & calf feeds
Dairy detergents & teat dips
Calf & calving accessories
Dairy wear & oils
And much more
See in store for the Spring Agri Promotional Flyer or view it online.
Milk Supply Agreement & Herd Health Cert
All suppliers are asked to submit any outstanding milk supply agreements for milk supply from January 1st, 2021.
To execute the agreement, you must complete and sign 'Schedule 1' including the volume forecast on page 12 and return the entire agreement to The Central Office ASAP.
Suppliers are also reminded that their signed 2020 health certificate is required to be submitted to the Society before recommencing milk supply.
E Statements
From January 2021, Drinagh will now have the facility to email your monthly accounts to you. All the information included in your monthly statement can be emailed directly to you.
You can now receive via email:
Milk Statement
Goods Statements
All Invoices
Newsletters & other Promotional Flyers
By receiving all your information via email, it will allow you to store and manage this information very easily as it will be stored in your email account. This will make the information such as dockets for a VAT reclaim or fertiliser dockets much easier to manage and find when you require it in the future.
If you wish to avail of this service, please complete the form included in this month's statement and return to Drinagh head office or email to info@drinagh.com.
Chlorine-Free Brochure
Included in this month's accounts and available online is a Chlorine-Free Brochure.
The brochure gives a full breakdown on the range of dairy detergents stocked by Drinagh.
Wash routines and usage rates for both tank and milking machine washing are calculated for all:
Chlorine free liquid detergents
Chlorine free Powder detergents
Descalers
Peracetic acid products
Reminder: All milk suppliers are required to be chlorine free from January 1st, 2021.
REMINDERS
Spring Dairy Promotion started Monday January 18th, 2021
Spring Dairy Webinar on Tuesday 26th of January via Zoom