January 2020 Newsletter
Milk price and supply; Fertilizer, Feed & Milk Statements; Spring Dairy Seminar; Spring Agri Promotion; Health Cert 2019; Chlorine Free on Bulk Tanks
Milk Price
The milk price for the month of December is unchanged at 32.41 cents per litre (147.34 cents per gallon) at 3.60% butterfat and 3.30% protein, including Winter Somatic Cell Count (SCC) bonus of 0.88 cpl and VAT at 5.4%. This includes 1.0 cent per litre milk price support from the stability fund.
The average price paid for the month is 38.43 cents per litre. This is based on the average butterfat of 4.55% and protein of 3.63%, including SCC bonus and VAT.
Milk Supply
Milk supply for 2019 was up 6.95 million litres approx. compared to 2018. This represents an increase of 3.51% in milk volume from 2018 to 2019. There was an 4.15% increase in milk solids over the same period.
Fertilizer, Feed & Milk Statements
Each milk supplier is receiving a summary of their purchases of feed and fertilizer from the Co-Op for 2019. These documents should be carefully filed for future use. This is the last year that feed and fertilizer statements will be posted out to all suppliers, instead they will be available online under your Drinagh online services login.
The December milk statement is also your annual milk statement for 2019. If there was no milk supplied in December, the November statement will act as your annual statement. The annual milk statement on the blue sheet is no longer being sent out. All the information you require from your annual statement is located under the year to date (YTD) columns on your last milk statement of the year.
Annual milk and purchases statements are also available to all online users @ www.drinagh.com
Online login and MilkedIn App: If you wish to start accessing your Drinagh online services login or to set up the Milkedin App on your phone - please contact Darren Lynch or Tim Regan for assistance.
Spring Dairy Seminar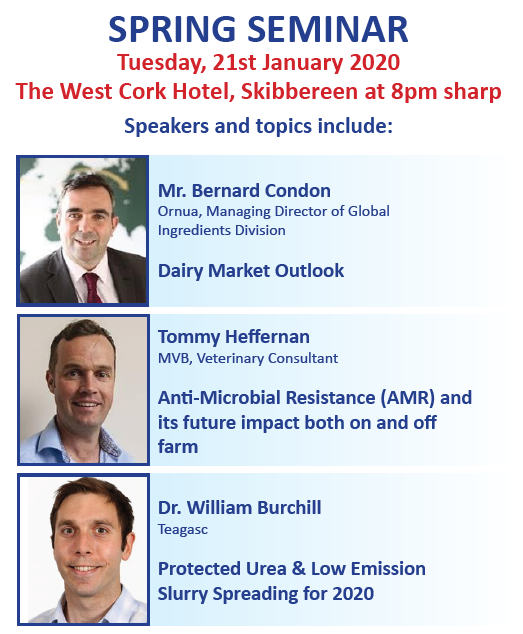 The Society held a SPRING DAIRY SEMINARon Tuesday the 21st of January 2020 in the West Cork Hotel, Skibbereen at 8.00p.m.
Speakers & topics included:
Mr. Bernard Condon, Ornua
Managing Director of Ornua's Global Ingredient Division.
Dairy Market Outlook
Veterinary consultant Tommy Heffernan MVB (Tommy the Vet)
AMR and its future impact both on and off farm
Dr. William Burchill, Teagasc
Protected Urea & Low Emission Slurry Spreading for 2020
Spring Agri Promotion
The Drinagh Spring Agri Promotion is running from Monday January 20th to March 28th, 2020.
The promotion covers all the products that you will need this spring. For more information call to your local store or see the Spring Agri Promotion Brochure included in this month's accounts.
Health Cert 2019
A number of suppliers have yet to submit a Dairy Health Certificate. We will be unable to collect milk from 1st January 2020 without receiving a completed cert. The white copies of pages 1 and 3 should be sent to the Co-op.
The cert should be signed by a vet and dated 2019.
If you intend to continue supplying in 2020, please attend to your Health Certificate obligations immediately to avoid unnecessary letters and phone calls.
Milk Quality
As suppliers recommence supplying in the Spring it is important that proper standards are maintained from the beginning.
Ensure all equipment including water heater/ washing systems are working correctly. Check all rubber ware and replace any worn or damaged sections paying particular attention to rubber bends which are often a source of bacterial growth.
The first collection from each supplier will be tested for T.B.C., S.C.C. and antibiotics. Therefore, milk should only be stored for a maximum of 4 days before collection.
Contact your milk collection driver in adequate time so that collections can be arranged.
We recommend that suppliers take a milk sample from their tanks and have it tested in Carbery prior to recommencing milk supply to ensure that the milk is fit for collection.
Chlorine Free on Bulk Tanks
The shift to chlorine free wash routines is required to remove trichloromethanes (TCMs) and chlorates found in dairy products.
At this stage, all bulk milk tanks should now be on chlorine free wash programmes. Bulk tanks are seen as the major contributor to TCM and chlorates found in finished products. Removing chlorine-based cleaning products from the bulk tank wash routine is the first step in a chlorine free programme for all dairy equipment.
As many suppliers will now be purchasing their detergent products for the next few months we encourage anyone that has not yet switched to chlorine free on their bulk tank, to buy a chlorine free detergent for their tank now.
If you require any information on the chlorine free wash procedure that will suit your tank – contact Tim Regan or Darren Lynch.
All chlorine free detergents are on special offer during the Spring Dairy Promotion
REMINDER
Spring Agri Promotion now on